The Library
More than 10000 volumes & periodicals
The College Library comprises the Main Library and the School of Public Health Library at the Brikama Campus and the School of Nursing and Midwifery Library in Banjul.
The Main Library is at the centre of the Brikama Campus and is open 65 hoursper week during term time and operates a reduced service during vacation periods. It is the College's central learning resources. Combined, the various parts of the Library system contain 10000 volumes & periodicals; there are over 400 reader places in modern air–conditioned surroundings and access to computer workstations. There are loan periods for items, reflecting demand, and a short load collection provides access to multiple copies of books in heavy demand.
The Library's many special collections are well used by the college's students. They include UNESCO, Islamic Educational, Scientific and Cultural Organisation (ISESCO) and FAO publications, Gambiana (i.e books by Gambians or on The Gambia), College theses and collections of research material.
The team provide a complete information service, not only answering enquiries but also educating students to make the best possible use of the vast range of resources available. In particular, staff can provide students with expert advice and assistance in literature searches – an essential part of the research process.
Developing good information skills through the exploitation of the Library's services and collections is essential to the student's future career.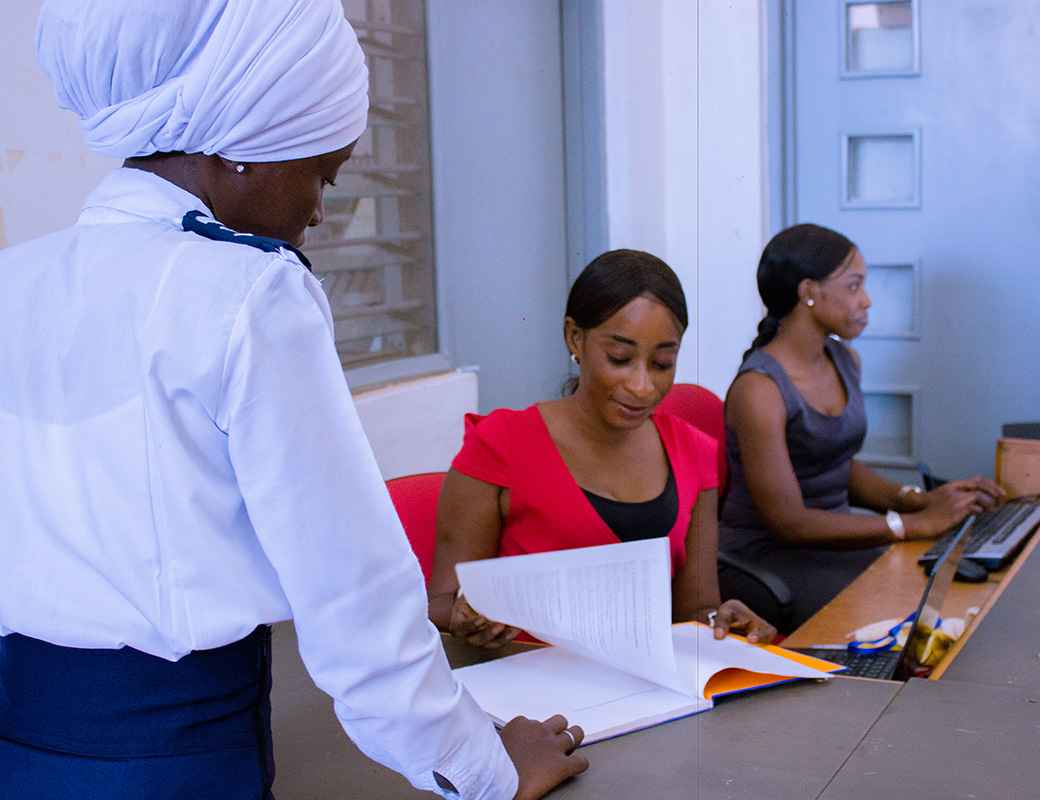 Opening Hours
Library opening hours

| Library | Time |
| --- | --- |
| Main Library - Brikama Campus | 09:00Am to 09:00PM |
| School of Public Health Library - Brikama Campus | 10:00Am to 04:00PM |
| School of Nursing and Midwifery Library - Banjul Campus | 10:00Am to 04:00PM |
---
Our Staff
The team at the Enquiry and Information Desk help students to use the collections service and information resources.
Mr. Momodou Badjie

Senior Library Assistant

Mr. Lamin Bojang

Library Assistant

Mr. Seedy Darboe

Library Assistant

Mr. Lamin Jatta 1

Library Assistant

Mr. John Bass

Library Assistant

Ms. Tida Cham

Library Assistant

Mr. Lamin Jatta 2

Library Assistant

Ms. Jainaba Sarr

Library Assistant

Ms. Kumba Ceesay

Library Assistant

Ms. Mariama Jallow

Library Assistant

Ms. Mariama Njie

Library Assistant

Mr. Sarjor Badjie

Library Assistant

Ms. Aminata Cham

Library Assistant

Ms. Binta Sanyang

Library Assistant

Mrs. Jelleh Ceesay

Library Assistant

Mrs. Awa Ceesay

Library Assistant

Mrs. Hawa Janko

Library Assistant

Ms. Jainaba Bojang

Library Assistant

Mr. Ousman Jallow

Library Assistant

Mrs. Jalleh Ceesay

Library Assistant

Ms. Kaddijatou Jallow

Library Assistant

Ms. Mariatou Njie

Library Assistant

Ms. Fatou Tamaba

Library Assistant